TBF Diagnostic provides simple and easy testing and partnered with a clinical laboratory for timely results. When you know better, you can do better. Tests  can help guide individual health journeys. Blood tests
DNA testing
Drug screening
IV hydration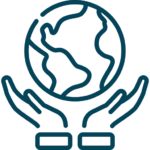 Employs 3 full-time jobs
Serves 20-30 people daily
Supports 3 Black-owned business vendors
Engages people in knowing their health status

Physical – engages people in knowing their health status
Takala Brizell Fomond, The Owner/Operator of TBF Diagnostic in Evanston, Illinois, has over 21 years of experience in the healthcare field.  With a background in nursing and various skills, Takala opened TBF Diagnostic to provide essential healthcare guidance.  Drawing from her work at Life Source Blood  Donation Center and as a contracted phlebotomist for military clearance events, Takala's expertise allows her to confidently handle various medical procedures.  She is dedicated to helping individuals overcome health challenges, whether battling diseases or preventing acute disorders and hospitalizations.  Takala's commitment extends to the community, as she organizes health fairs and other initiatives, including partnering with Evanston Public Library.  Through TBF Diagnostic, Takala fulfills her passion for helping others.