The Growing Season is a meditation and self-awareness studio that will partner with local practitioners and national organizations to bring mindfulness programming to The Aux.  As a non-profit, The Growing Season also serves as The Aux's fiscal partner. Mindfulness Based Stress Reduction programming
Studio space for available for wellness practitioners
Community-responsive programming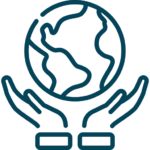 Employs 2 people
Curates mindfulness-based programming such as body work, yoga, non-violent communication, doula services, tai chi, and meditation
Provides affordable studio space for new and emerging wellness professionals

Spiritual, emotional, social/community wellness
Lori Laser is the Founder/CEO of The Growing Season and a co-developer of The Aux.  She is a passionate advocate for ensuring that all families have equitable access to healing and wellness resources. Lori is a graduate of the Engaged Mindfulness Institute and accredited with the International Mindfulness Teachers Association. Lori also serves as a Board Member for the Erikson Institute. Lori will head The Growing Season in the Aux to bring mindfulness programming to the community.