The Fitness Representatives
The Fitness Representatives Gym represents fitness for life. We look to making our community of representatives fit in mind, body and spirit. Personal Training
Cognitive behavioral therapy
Health and wellness coaching and retreats
Fitness Classes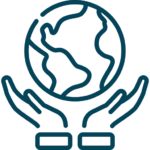 Employs 5-6 fitness/wellness professionals
Provide vocational training for future health and wellness professionals
Offer youth and children's wellness programs and school curriculum
Corporate fitness programs

Emotional, physical, mental, & social wellness

Offers wellness programs geared towards underserved communities
Gabori is a public/motivational speaker and host of The Fitness Report Radio Show. He is a NASM certified Personal Trainer, Performance Enhancement Specialist, and has over 20 years of health and wellness experience. He's also a certified Health/Nutrition Coach through IIN (Institute of Integrated Nutrition) Gabori is also a United States Marine Corps war veteran.
Gabori himself is known as the The Fitness Representative, but The Fitness Representatives Gym will be a place for all to come and Represent Fitness For Life.
"I am so excited to be a part of such an intricate piece of what wellness and fitness will look like for the future of Evanston and the surrounding communities." -Gabori Partee, Sr.