The Studio Aux will produce and support multiple podcasts, produce and record music and voice overlays, and support the audio sound system for The Aux Evanston. The ability to tell your own story and connect with community through media is one of the most utilized ways to promote wellness. Podcast recording
Music recording and voice overlays
Media training
Music and tech support for Aux events and rentals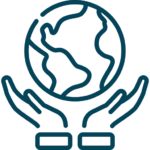 Employs 2-3 staff
Serves 20-30 customers weekly
Provides an opportunity for the community to tell their own story
Supports health communication and increases health literacy

Community wellness
Spiritual wellness
Gabori is a public/motivational speaker and host of The Fitness Report Radio Show. He is a NASM certified Personal Trainer, Performance Enhancement Specialist, and has over 20 years of health and wellness experience. Gabori is also a United States Marine Corps war veteran. Gabori is also a Co Founder of Well Beings Chicago, an anchor tenant in The AUX.